Bespoke awnings and canopies
Pro Fit blinds supplies and offers fitting services for bespoke awnings and canopies from our base here in Whitstable to Canterbury, Herne Bay and across Kent.
Our professionally fitted garden awnings and canopies are the perfect way to add outdoor living space to your home.
Our wide range of British manufactured awnings create a sheltered outdoor area to live the alfresco lifestyle.
An awning or sun canopy from Pro-Fit Blinds will protect your family and friends from harmful UV rays and shield you from those unpredictable summer showers! It will also keep your terrace and home cool, while providing added privacy and seclusion within your garden.
Garden awnings and canopies stop the glare caused by the sun and allow you to entertain in style and sophistication while dramatically transforming the appearance of your home.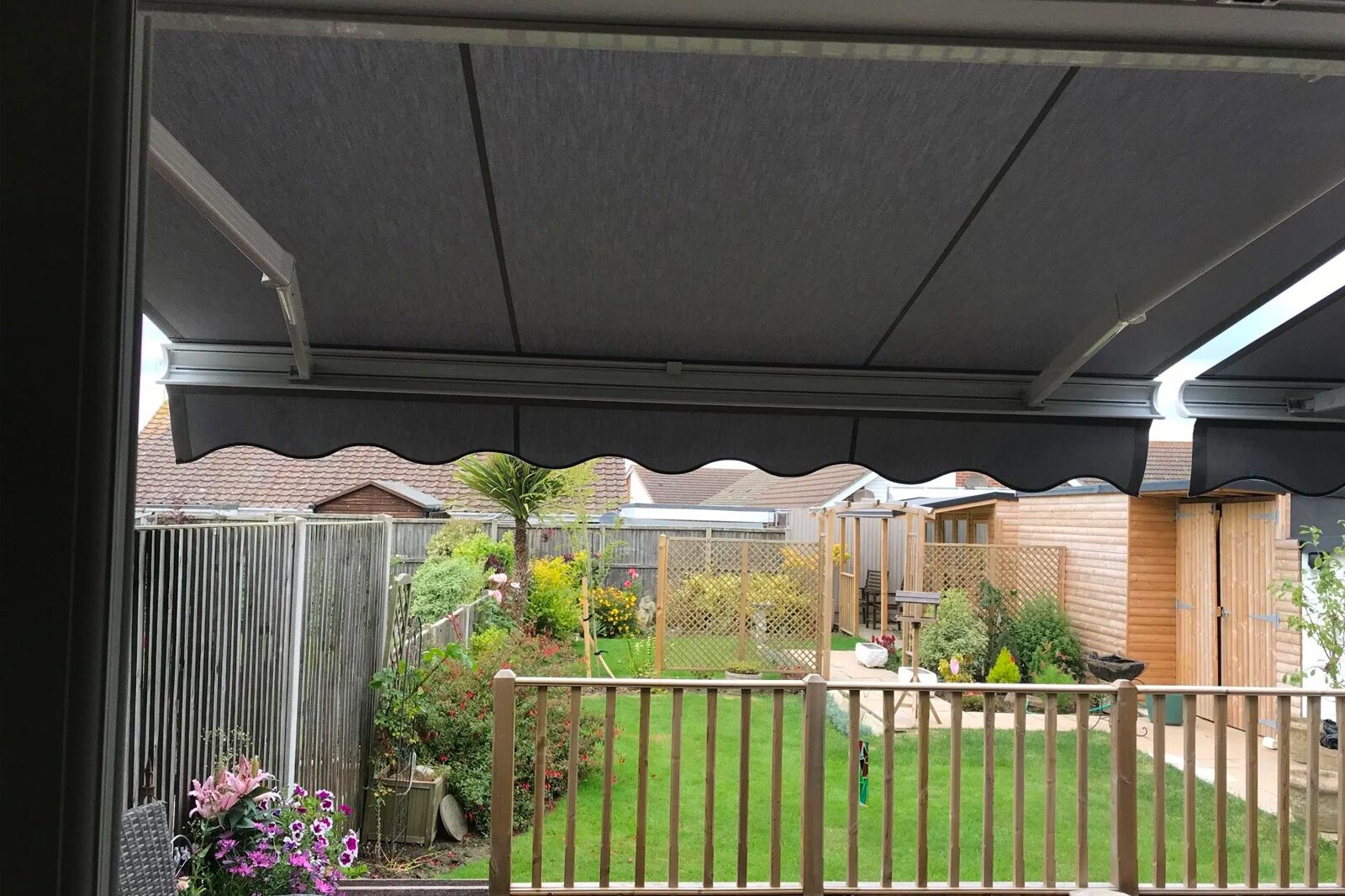 What makes our garden awnings exclusive?
Our retractable awnings and canopies are strong, resilient and built to last. Certified to TUV and European quality standards our awnings exceed the most stringent demands. Features include:
Galvanised steel fabric barrels with PVC coated support profiles do not warp or deflect ensuring the fabric always rolls correctly.
Fabrics feature TEXguard, a water repelling coating making cleaning easy and protects against mould, algae and fungal growth
Integral radio controlled motors built within the fabric barrel function effortlessly via hand held or wall mounted transmitters for convenient operation
Optional sensors including light and wind allow our awnings to think for themselves, positioning automatically based on the ambient conditions
Handles are available for a smaller sized awning manual operation through a smooth gear box and detachable crank
The optional accessories including under awning lighting and side screens allow our awnings to become an all year round solution that can be used come rain or shine, day or night.
Great choices of fabrics and colours
Our garden awnings and canopies are available in an extensive range of fabrics which are created from 100% solution dyed acrylic fibers, woven using the strongest warp/weft construction ensuring they hold their shape and colour for the life of the awning. Choose from an array of vibrant, pastel and neutral colours.
Choose from our wide range of bespoke awnings and canopies